Our Leadership
Jennifer Yowler
President
PharMerica
Jennifer is the President of PharMerica Corporation. She previously served as the CFO, playing a lead role in the development and execution of the financial and operational strategy of the company since June 2019.
Jennifer joined PharMerica with a distinguished career as a senior healthcare executive with over 20 years of experience in finance and operations at multiple companies in the long-term care and healthcare industry. She started her career with PricewaterhouseCoopers in the audit and assurance group, working on various clients in the healthcare and insurance spectrum. She then joined Omnicare, serving in various roles of progressive responsibility. Jennifer culminated her 11-year tenure with Omnicare as the Vice President of Financial Processes. From there, she served as Chief Financial Officer of Partners Pharmacy.
At PharMerica, Jennifer leverages her demonstrated track record of success and extensive background in corporate finance, operations, mergers and acquisitions, and strategic planning to lead the company's future growth.
Jennifer holds a Bachelor of Science degree in business administration in accounting from Ohio University.
T.J. Griffin
Chief Clinical Officer
PharMerica
T.J. Griffin is Chief Clinical Officer at PharMerica. T.J. is a seasoned healthcare executive with 30 years in long-term care and retail pharmacy management. In his current role, he helps deliver on the PharMerica promise of Care, Commitment and Collaboration by maintaining the highest quality standards in the industry through innovative pharmacy operations and clinical excellence.
During his nearly 20 years at PharMerica, T.J. has held several positions, starting as Pharmacy Director, then serving as Regional Pharmacy Director and Vice President of Operations, experiences that have helped shape the company's Community Focus, National Expertise. T.J. is also very active with the American Society of Consultant Pharmacists, serving as co-Chair of their DEA Task Force, and has a passion for governmental affairs as an advocate for our seniors and clients.
Prior to PharMerica, T.J. worked for 12 years in various management capacities with Eckerd Drug Stores in Florida. He has a Bachelor of Science degree in pharmacy from the University of Iowa.
Learn how T.J. delivers top quality care and service by leading with accountability
Bill Deane
Chief Pharmacy Officer
PharMerica
Bill Deane serves as PharMerica's Chief Pharmacy Officer. In this role, he leads PharMerica's commercialization efforts and growth initiatives in the senior living and behavioral health markets as well as the company's at-home, cross-functional platform ContinueCare. Bill has a deep knowledge of healthcare and pharmacy, with over 25 years of experience in the industry and expertise in driving process and operational enhancements, developing key customer relationships, and growing market share.
Early in his career, he owned and operated a pharmacy business that provided long-term care, home infusion, and hospice services to customers in the Mid-Atlantic area. He later spent 13 years in various senior leadership roles at Omnicare.
Bill attended Mary Washington College in Fredericksburg, VA, where he earned a Bachelor of Science degree in biology. He graduated from the Medical College of Virginia School of Pharmacy in Richmond, VA in 1991.
Learn how Bill focuses on improving patient outcomes but leading through integrity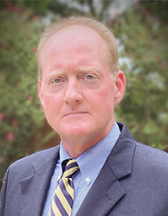 John Cleary
President, Hospital Pharmacy Services Division
PharMerica
John Cleary leads the Hospital Pharmacy Services Division at PharMerica, which prides itself on providing exceptional customer service, containing pharmacy costs, and meeting the pharmacy needs of hospitals, rehabilitation hospitals, long-term acute care hospitals, behavioral health hospitals nationwide.
John is a notable healthcare executive with a proven track record of success in leading and growing healthcare companies over a 20+ year corporate career. Before his foray into the healthcare industry, he had a distinguished career in the United States Navy as a Naval Officer flying carrier-based attack jets. John then began his corporate career as a Senior Consultant for Deloitte Consulting before joining the Senior Management Team as Vice President of Operations at HospiScript Services, a pharmacy benefit manager for hospice, which is now OptumRX. He then joined Institutional Pharmacy Solutions, a hospital pharmacy management company, as Vice President of Sales & Marketing and was ultimately promoted to the Chief Executive Officer role.
Cleary holds a Bachelor of Science degree in business administration in finance with honors from the University of Florida and a Master of Business Administration from the S.C. Johnson Graduate School of Management at Cornell University.
Lisa Bowen
Vice President of Marketing
PharMerica
Lisa Bowen serves as the Vice President of Marketing for PharMerica. In her role, Lisa provides stewardship of the PharMerica brand, all digital and marketing functions, acquisition and retention campaigns, and development of a customer-centric culture to positively position the company in the hearts and minds of key stakeholders.
With over 25 years of broad global brand and marketing experience, Lisa is a trusted senior marketing executive, distinguished as a strategist, deliverer of results, and developer of talent. An ROI-minded professional, she is passionate about leveraging research and analytics to enhance marketing effectiveness and accountability and embracing creative approaches to challenges.
Before joining PharMerica, Lisa served as the Vice President of Account Services for RDW Group, an integrated communications agency. Previously, she was at CVS Health for 10 years, where she played a leadership role in consumer marketing planning and execution of new PBM retail solutions, and at Optum as the VP of Marketing and Business Development.
Lisa received a Bachelor of Science degree in health science and services with a minor in communications from the University of Rhode Island.
Promoting solutions to share challenges is critical in long-term care. Learn how Lisa is leading through communication
Jeremy Colvin
Senior Vice President, Growth and Market Development
PharMerica
Jeremy Colvin is the Senior Vice President of Growth and Market Development for PharMerica. He is a proven senior executive with more than 20 years of Fortune 500 leadership experience developing and executing strategic growth initiatives and architecting high-performance organizations focused on delivering business results and supporting long-term client relationships.
Jeremy has spent most of his career in long-term care and is personally committed to the industry's continuing mission and values, respecting and recognizing the responsibility inherent in the care of our frail elderly. Prior to joining PharMerica, he served as the Vice President of Strategic Market Solutions for BrightSpring, where he was immersed in post-acute, at-home care delivery and value-based payer engagement. Previously, Jeremy held several senior leadership roles with CVS Health/Omnicare in sales, business development, and strategic accounts management.
Jeremy has a Bachelor of Arts degree in political science and history from the University of Kentucky.
Learn how Jeremy leads through passion for long-term care to help bring PharMerica's national resources to local communities
Randy Miller
Senior Vice President, Pharmacy Product Development
PharMerica
Randy Miller is the Senior Vice President of Pharmacy Product Development for PharMerica. In this role, he is responsible for the strategic planning and deployment of PharMerica's technology portfolio.
Randy has served in a technology leadership role in the healthcare industry for over 25 years. Most recently, he served as Chief Information Officer for Partners Pharmacy. Prior to that, he was the Vice President of Application Development with Omnicare.
Randy has a Bachelor of Science degree in information systems and an Associate degree in finance.
Learn how Randy utilizes innovation to develop creative solutions to improve resident's quality of life
Michael J. Moyano
Senior Vice President, Purchasing and Trade Relations
PharMerica
Mike Moyano is the Senior Vice President of Purchasing and Trade Relations for PharMerica, where he leverages his extensive background of more than 20 years in healthcare, pharmacy, and supply chain settings to lead the company's strategic initiatives.
In his role, Mike is responsible for developing and managing relationships with all pharmaceutical manufacturers, wholesalers and GPOs, generic pharmaceutical formulary, specialty programs, inventory and sourcing strategies, and third-party payor contracting, strategy, and implementation.
Previously, Mike held leadership roles with Siemens Medical, MedQuest Associates (a Novant Health company), Priority Healthcare/CuraScript (an ESI company) and Morgan Stanley.
Mike has a Bachelor of Science degree in psychology from the University of Central Florida and serves as City Commissioner-Finance in his community.
Chris Schaefer
Senior Vice President, Corporate Development
PharMerica
Chris Schaefer is Senior Vice President, Corporate Development, for PharMerica. In this role, Chris leads M&A transaction sourcing and execution across PharMerica's long-term care pharmacy, home infusion, specialty pharmacy, and hospital pharmacy management businesses and manages numerous strategic and organic development activities. Since he joined the company, PharMerica has completed approximately 40 M&A-related transactions.
Chris is a seasoned finance, operations, and transaction professional with over 20 years of progressive experience focused on driving growth and financial performance across the continuum of healthcare products and services. He joined PharMerica in 2013 from CIT Healthcare, where he was a Director in Healthcare Investment Banking, providing leveraged loans and M&A advisory primarily to financial sponsor-backed healthcare companies. Prior to CIT, he worked in business development with Boston Heart Diagnostics and spent approximately 10 years in investment banking, including roles at BT Alex. Brown, Robertson Stephens, UBS and Thomas Weisel Partners. Over the course of his career, Chris has completed approximately 100 transactions with aggregate value of over $10 billion.
Chris earned an A.B. in economics from Harvard University and an MBA from New York University's Stern School of Business.
Dan Lynch
Vice President of Compliance - Pharmacy
BrightSpring Health Services
Dan Lynch is Vice President of Compliance – Pharmacy at BrightSpring Health Services, bringing extensive experience in multiple pharmacy settings to his role. Dan started in the industry in retail pharmacy, managing multiple locations, then served as Director of Operations for national mail-order, long-term care, and 503A compounding pharmacies. Most recently, he was the Director of Regulatory Compliance for a national long-term care pharmacy serving over 30,000 residents in 19 states.
Dan is an active member of multiple state and national pharmacy organizations, including the American Society of Consultant Pharmacists (ASCP), where he will be chairperson of the Government Affairs Committee, Political Action Committee, and USP Compounding Work Group and a member of the DEA Task Force. He has sat on the Advisory Board for MHA as well as participated in the development and rollout of the Federal Provider Program response to COVID-19.
Dan is a graduate of Butler University in Indianapolis, Indiana.
Sales Inquiry?
Contact us today to start a new partnership in delivering superior care.